Science tells us that red and blue wavelengths of light are perfect for plants. But if you've got house plants and a keen eye for interior decor, you know that purple lighting can be disruptive to the mood and aesthetics of your space. So how do you make sure your plants get the light they need without turning your living room into a scene from Star Trek? A full spectrum grow light bulb might be what you're looking for.
The GE Lighting LED Grow Light is optimized to deliver what experts call the flowering spectrum – the wavelength of light that helps keep plants healthy and happy. But more than that, these GE Lights are designed so that they cast nothing but natural white light to keep your space looking clean, neat, and fresh.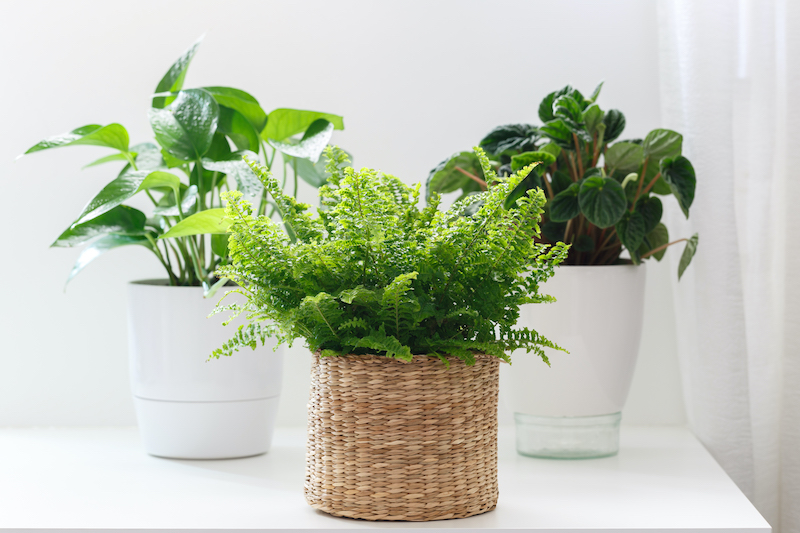 Designed with the BR30 bulb shape, the GE LED Grow Light Bulb is intended to disperse bright light across a large surface area. Mimicking the generous spread of light from the sun, these bulbs can easily supply the right light for a variety of house plants, including broad leaved sun-loving species like the yucca and edible houseplants. The bulbs base is an E26 that fits into many readily available lamp and lighting fixtures, so you can be certain that the bulbs will be compatible with what you have at home.
What makes these bulbs particularly great for indoor plants is that they provide full spectrum flowering light. With wavelengths that range between 380 to 800nm, the bulbs provide exactly the kind of light that plants need to support photosynthesis. In effect, the bulbs may even help speed up the process of flowering and fruit bearing, bringing your edible houseplants to fruitful maturity sooner rather than later.
Another benefit is that the GE Lighting LED Grow Light Bulb is designed to cast a natural white light. That means you can install them anywhere in your home without disrupting the overall aesthetics of your space, which isn't exactly the case with red and blue plant lights that spread a dreamy purple glow throughout an area.
Do note however that because it is a BR30 shape, the bulb itself might not fit narrow lamp fixtures or recessed receptacles that can't accommodate the width of its face. Another thing is that in some cases the GE grow light bulb has been found to make a bit of a buzzing noise when turned on. Sure it won't dampen performance, but it can be a little annoying.
Perfect for bringing your plants to full bloom, the GE Lighting LED Grow Light Bulb provides full spectrum flowering light that matches your plants' needs without interrupting your interior. With their bright illumination and efficient intensity, these bulbs are some of the best alternatives to natural sunlight.
Key Features:
Wattage:

 

9W
Wavelength:

 

380 – 800nm
Shape:

 

BR30
Base:

 

E26 or medium
Rated lifespan:

 

25,000 hours
Low heat performance
Pros:
Wide BR30 shape casts light over a larger surface area to provide the lighting needs for a broad indoor garden space
Medium E26 base is the most common light bulb base, and is compatible with many lighting fixtures and lamps
Flowering spectrum provides full spectrum light that encourage photosynthesis to support the needs of both decorative and edible houseplants
Up to 25,000 hours of accumulated use, promising to see you through years of operation to minimize your spending on replacement bulbs
Uses just 9W of power to help you save on electricity even over periods of extended use
Cons:
Broad BR30 face might be a snug fit for certain types of recessed lighting fixtures and lamps
Some units may emit a buzzing noise
The Verdict

The GE Lighting Grow Light Bulb can make it seem like you brought the sun straight into your home. Designed to cast natural white light across a broad area, these bulbs can help you maintain a range of house plants without disrupting your interior's decor.
And because they come equipped with the most common light bulb base in the industry, you can be confident that these bulbs will screw easily into most of the fixtures in your home. Plus, they come at a pretty reasonable cost. If you're looking to try growing house plants under a grow light bulb these are a great entry level option.