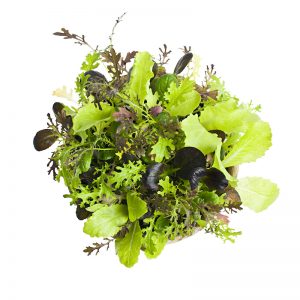 Whether you're looking to grow edible houseplants to add fresh, handpicked herbs and produce to your home cuisine, or simply hoping to decorate with house plants and bring nature indoors, indoor gardening kits might be just what you're looking for. Perfect for homes with limited garden space, an indoor garden puts fresh herbs, produce or attractive flowers within arm's reach, all while providing your interior with the stress-relieving beauty of real, natural plants.
You probably have one question in mind – how do I get started with my very own indoor garden? Well, we've got the answers. Discover which indoor gardening starter kits we found to be the best for your home and watch your little plot of green paradise bloom before your very eyes.
Our Top 3 Smart Indoor Gardening Kits
Highly Recommended
Best Overall
Best Entry Level
AeroGarden Bounty

AeroGarden Harvest Elite

AeroGarden Sprout
9 plant pod capacity
vacation mode
intuitive, Wi-Fi enabled control panel
6 plant pod capacity
variety of colors and finishes
digital control panel
3 plant pod capacity
automatic day/night cycle
simplified control panel
4.6/5
548 reviews
4.3/5
1007 reviews
4.1/5
1401 reviews
A recent survey conducted by the National Geographic found that indoor gardening has made a big comeback in the past few years. With more and more people confined to tight urban spaces with limited room for lush outdoor gardens, the humble countertop garden has become the new trend. And of course, with such heightened interest in indoor gardening, manufacturers have provided some great solutions.
There's a huge variety of indoor gardening kits on the market. So we took the time to figure out which ones truly were the best of the best, particularly for growing edible houseplants. We considered factors such as size, capacity, ease of use, growing efficiency and overall value. And based on our reviews, the grass truly is greener with these products.
Smart Indoor Gardening Kits
If you are keen to enjoy fresh produce all year round, straight from your kitchen counter, an indoor smart gardens might be of interest to you. Our detailed reviews based on comprehensive research will guide you through the process of finding an indoor gardening kit that will provide for your household.
We love the fact that these garden kits virtually grow themselves. The lights turn on and off automatically, the plants grow in water, not soil, much less messy and many of them provide you with detailed instructions for adding water and nutrients. All you do is pop the seed pods in, turn them on and then watch your harvest grow.
Within a couple of weeks you can start enjoying the fresh produce from your indoor gardening kit . Add fresh herbs to your meals and pick salad greens as you need them. No more buying a bunch of herbs, using them for one meal and then wasting the rest. Enjoy fresh produce all year round from your indoor smart garden.
Indoor smart gardens are ideal for growing herbs, salad greens and a variety of vegetables such as cherry tomatoes, chillies, peppers and more. With the AeroGarden models you can experiment with your own seeds by purchasing a grow your own kit and using seeds from your own collection.
Below we have provided a brief review of some of the products that we believe to be the best investment for your household. We love the idea of growing fresh produce to add to your family meals and with these indoor smart gardens you will reduce wastage. No more buying large packets of herbs, just pinch off the leaves as you need them. For more detailed reviews click on the Find Out More.
AeroGarden's Bounty is an advanced indoor hydroponic garden with a sophisticated control panel as its main selling point. It even offers a vacation mode for when you travel and Wi-Fi and Alexa compatibility.
The panel on this indoor smart garden shows you the details of your plant care and progress. The intuitive panel tells you when to water, add plant food, and where your little green babies stand in terms of their growth. The control screen also gives you tips and vital information to help you fully understand the gardening process so you can hone your skills and become a better indoor farmer as the days go by. FIND OUT MORE
AeroGarden Platinum Bounty Elite
An indoor gardening kit with plenty of features is the AeroGarden Platinum Bounty Elite. With a capacity of up to nine plants, this spacious countertop garden provides more than enough room for all of the different herbs and produce you might use in your kitchen. Equipped with the sophisticated AeroGarden control panel, this device makes planting and cultivating as easy as setting the pods and providing food and water. No gardening experience is required. Read more
Click and Grow Smart Garden 9
Efficient and guaranteed, the Click and Grow Smart Garden 9 works wonders to bring fresh plants and herbs to life, even for inexperienced gardeners. The sizable device can house three different plants, and comes bundled with mini tomato, basil, and green lettuce to help you get started on your kitchen garden. What's more, the seamless, clean symmetry of the Click and Grow Smart Garden 9 makes it more than just a countertop garden. Its beautifully harmonious edges and Scandanavian style qualifies the device as a worthy decorative addition to your space as well. Read more
With enough room for three different 10" tall herbs and plants, the AeroGarden Sprout LED gives you substantial space for edible houseplants. And to kick you off on your gardening journey, the bundle even comes with three starter seeds, including Genovese Basil, Curly Parsley, and Dill. A bottle of Plant Nutrients is tossed in with the deal, giving you enough of the all-natural plant nutrition to see you through a season of growth. The LED garden itself is incredibly intuitive. A panel tells you when to add water and plant food, and it automatically controls the on and off cycle of the LED light for added convenience.  Read more
Other Indoor Gardening Kits
If the automated indoor smart garden is not your style here are some other indoor gardening kits to try. Indoor gardening is all about finding what works for you. Our homes all have different levels of light in different places and different amounts of space in which to grow plants. With such a variety of edible house plants, foliage plants and some flowering plants that can be grown indoors, you're sure to find something that will help you grow an indoor garden.
Traditional Herb Garden Kit

s

If you like getting your hands a bit dirty with the soil then perhaps these kits are for you. They are great to involve children in the gardening process too. You will need to find somewhere with sufficient light to grow these, or invest in an LED grow lamp to ensure your plants have enough light for optimal growth.

Quite often a windowsill, or even a balcony in the warmer months can be an ideal place to grow some herbs.
Planter's Choice 9 Herb Window Garden
Spade To Fork
Indoor Herb Garden Starter Kit
Nature's Blossom Herb Garden Seed Starter Kit
Mountain Valley Seed Company Culinary Indoor Herb Garden Starter Kit
Sprout and 

Microgreen Kit
 Microgreens are great for adding color, flavour and nutrients to your meals. The are basically just baby plants harvested before they have the chance to grow and mature. Not only do they look amazing on food, but they can have much higher concentrations of nutrients that the adult plants.
Microgreens can be added to salads, sandwiches, smoothies, juices or even savoury baking. The ways to enjoy these power-packed nutrient boosters are endless. It has been shown they may have potential health benefits and may boost your immune systems. Surely any increase in beneficial nutrients in your diet has to be good for you.
For a small investment you can get started growing these microgreens, or sprouts today. Why not get the whole family involved and start reaping the benefits of nutrient-rich foods.
How Do Smart Indoor Gardening Kits Work?
One of the biggest problems with growing plants indoors is the provision of adequate light. The indoor gardening kits recommended all provide light for plants to allow for optimal growth, which results in healthier plants. The hydroponic kits also take care of the pants requirements for water and nutrients and because there is no soil, there's less mess and less chance for pests and disease.
With an indoor gardening kit you can have a bountiful harvest of flavourful herbs, salads and veggies in any season. Flowers can even be grown in the colder months to add that beautiful touch of colour to brighten your home. There's also the added excitement of watching your plants grow each day, a great way to connect with nature and introduce kids to simple food production and gardening essentials.
Growing herbs and salad greens on your kitchen countertop means you have available just the right amount of ingredients when you need them. No more buying bags of herbs, using a few leaves and then wasting the rest of the bag. This also provides a great option for people who travel, you have fresh salads and herbs to come home to, and the new AeroGarden Bounty kits even have a vacation mode to reduce plant growth while you are away.
For some people, two smaller kits may be a more suitable option rather than one large kit, depending on the size of your countertop and what you want to grow. Some indoor gardening kits require you to purchase plant pods with the seeds already in them whilst others provide the option of "grow anything" kits that you can pop your own seeds into and try a variety of plants.
Whether you are a beginning gardener or more experienced green thumb, indoor gardening kits provide an exciting way of growing fresh, healthy produce for your family, all year round, from the comfort of your own kitchen.
What's The Best Indoor Gardening Kit?
With such a variety of different gardening kits, choosing the right one can be a bit confusing. Whether you are in an apartment, family home, rent-a-room or in an aged care facility, there is sure to be a gardening kit right for you.
The indoor smart gardens help you bring herbs, vegetables, and all sorts of plants to fruition with very little attention from you. Microgreens can be grown right on your kitchen countertop, increasing the nutritional value of your diet. Kits with grow lights are great if you want to grow some beautiful flowers indoors and you just don't have the right light in the right spot.
The more traditional gardening kits are ideal if you have a sunny window and you want the full gardening experience. Kids love to watch the seeds sprout and new leaves grow! Or, why not combine two passions in one with an aquaponic system. Enjoy the fish whilst growing nutritious food.
So take the leap and discover the new way to enjoy nature in the comfort of your home – try out one of our reviewed products and discover how indoor gardening kits in your home can bring nature inside.