Science has found that plants predominantly absorb the blue and red wavelengths of light, which makes these two wavelengths the most important for growth and photosynthesis. If you're an indoor gardener, this information has likely driven you in search of a suitable desktop grow light that provides red and blue light to maximize your plants' growing potential.
Among the most popular red and blue LED grow lights for house plants is the Ankace Dual Head Grow Lamp. Using a combination of red and blue LED beads, this desktop grow light provides the most important components of the light spectrum to support your plants' growth.   Let's have a look at its other features too.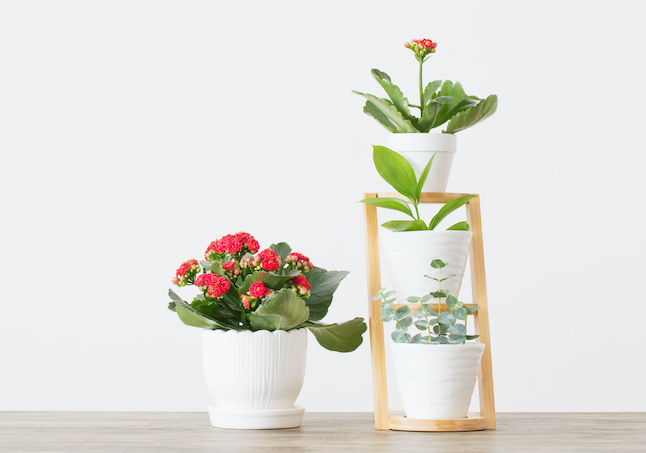 Equipped with two heads, the Ankace Dual Head Grow Lamp boasts blue and red LED beads that are said to improve photosynthesis. These lights produce a beautiful purple glow that can definitely make your plants look out-of-this-world underneath the lamps' illumination. The two elongated heads have about 36 beads each, all arranged in a single line to help spread out the distribution of the glow.
These heads connect to flexible goose necks that can bend and twist to all sorts of positions, helping you accommodate your spread of indoor plants without having to move the light itself. The entire device attaches to a desk or table's edge by way of a sturdy clamp. To control timer settings, brightness, and lighting modes, all you need to do is reach for the control that connects to the power cable.
Timer functions let you set the lights to turn on for period of 3, 6, or 12 hours, after which it turns off. The device will turn on every day at exactly the same time, and shut off after your designated timer schedule, letting the light operate totally independently of your intervention. The light's brightness settings can be adjusted to 5 different levels, and lighting modes let you choose to keep just one or both lights turned on. Based on the manufacturer's specifications, the bulbs are designed to provide an average of 50,000 hours of accumulated use.
While there's definitely a lot to love about the Ankace Dual Head Grow Lamp, it isn't without a few design hiccups. The first issue is that once you max out the bulbs' lifespan, there's no way to replace them. So that means you'll have to repurchase the lights all together. The second is that there are some plant parents who might not fully appreciate the aesthetic of the purple glow. Then again, that's more of a preference issue than anything else and if you have it on while you're out during the day, you simply enjoy your beautiful plants in the evenings.
The straightforward Ankace Dual Head Desktop Grow Light provides perfectly distributed red and blue light to match your plants' needs. Designed to encourage photosynthesis, these lights cast a dreamy purple glow to enrich and sustain any indoor plants under your care.
Key Features:
Wavelength:

 

Red – 660nm; Blue – 460nm
Wattage:

 

40W
Brightness levels:

 

5
Timer schedules:

 

3, 6, 12 hours
Attachment:

 

Clip
Lighting Modes:

 

Single, or dual
Pros:
Optimized blue and red light support photosynthesis to improve plant growth and flower and fruit production
Wide light design with separate LED beads evenly distribute light and cover a large surface area
Adjustable heads can be positioned to direct light in a variety of ways to target the various plants in your care
Timer system keeps the lights on for your designated period and turns them off automatically for intervention-free operation
Five adjustable brightness levels let you calibrate the strength of light to match the changing needs of your plants
Energy saving bulbs use up a total of 40W with both heads turned on
Cons:
The bulbs aren't replaceable
The purple glow might interfere with certain interior decor styles
The Verdict
It's true – red and blue light can be beneficial for the growth of your indoor plants. Working to speed up the process of photosynthesis, these lights match the exact components of the light spectrum that your plants absorb from natural sunlight. No wonder the Ankace Dual Head Grow Lamp has become so popular.
Easy to use and requiring little of your effort to operate, the Ankace Dual Head Grow Lamp isn't only convenient, it's also effective. You now have the option to choose a plant and grow it anywhere in your home, the natural lighting doesn't need to limit your choice of plants.  Try it out and see for yourself the difference a desktop grow light can make for the health of the plants in your home.