This Click and Grow review of the Smart Garden 9 begins with the beautiful Scandinavian design of this effortless indoor garden set-up. It has the potential to make a master cultivator out of the most inexperienced gardeners. The oversized device accommodates 9 different plants at a single time, letting you produce a wide variety of herbs and produce to enrich your home cooking.
The only question for this Click and Grow review – is the Smart Garden 9 a match for your needs? Find out more about this countertop garden with our comprehensive review.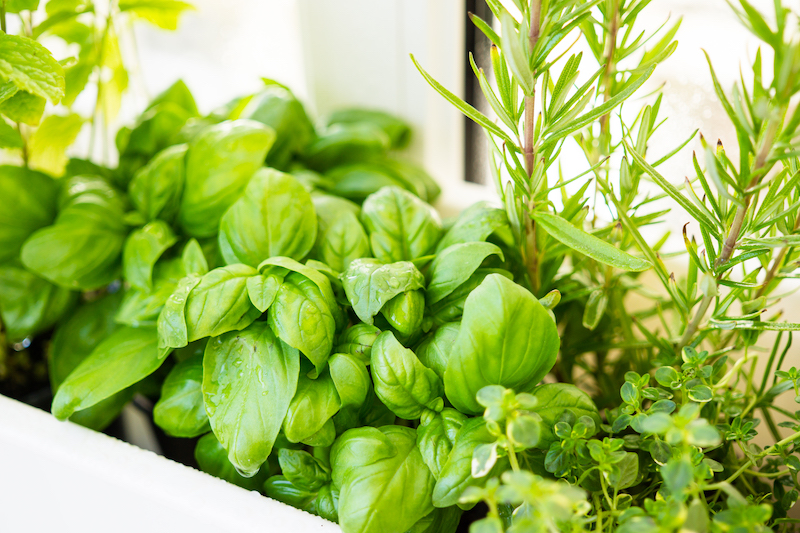 The Smart Garden 9 features a reinforced ABS plastic encasement that works well to resist all sorts of moisture and heat damage. Its plant bed, consisting of 9 receptacles, accepts Click and Grow brand plant pods that sit inside the little recesses. Underneath, the belly of the kit conceals a water bed that touches the base of the pods and provides fertilized water for the plants to grow and thrive.
Above the indoor garden, an overhanging light – designed to look like a handle – shines heat and brightness over the growth. But unlike other indoor gardens, the Smart Garden 9 uses a set of professional plant growing lights to provide your herbs and produce substantial heat to meet their cultivation requirements.
Towards one corner of the device, a bobbing float gives you a visual cue on the level of the water inside. If the floater is sunk into the tub, then that indicates the need for a refill. But basically, that's all you'll really need to keep an eye on. The lights come on and turn off based on an internal timer, thus there's no risk of leaving them on or off for too long.
Each Smart Garden 9 comes with a set of three pods to help you get started on your growing project. If you find that you want to add a few more plants to your indoor garden, the brand offers over 40 different plant pod types (including flowers) to expand your garden variety. Free of GMO's, pesticides, herbicides, and fungicides, the Click and Grow brand promises healthy, natural growth perfect for sumptuous home cooked meals.
Are there any downsides? Well, while we definitely appreciate the intuitive and effortless Smart Garden 9 design, this Click and Grow review did find a few small negatives. You'll notice that this model doesn't feature a height adjustment for the lamps, despite coming at a steeper cost than some other Click and Grow models that offer that obvious feature.
Another thing is that with 9 plants growing, the water reservoir's capacity might not be enough to see your plants through a week of their nutritional needs. Expect frequent refills as your plants reach maximum size. And lastly, the pods aren't cheap, and you can only get them in sets of three without the option to mix up what's included in the bundle.
The Click and Grow Smart Garden 9 provides you ample space to grow a wide variety of plants, and boasts an effortless design that grows your plants for you. All you need to do is add water, sit back, and watch your harvest bloom.
Key features:
9 professional plant growing lights
Pre-set night and day timer
9 plant pod capacity
Manual water refill indicator
10 inch clearance from plants to light
Growth guarantee for plant pods
Pros:
Spacious cradle accommodates 9 different plants at a time for expanded variety
Professional plant growing lights provide optimal brightness and warmth to match your plants' needs
Automatic on and off replicates natural day and night cycles, offering 16 hours of daytime and 8 hours of nighttime
Simple hydroponic set-up limits the development of pests
Wide selection of plant pods are sold with a growth guarantee – any that don't germinate can be replaced at no extra charge
Cons:
Doesn't have an adjustable light height
Limited water capacity for 9 grown plants
Plant pods can only be purchased in bundles of three, without the option to mix up what's included
The Verdict
The Click and Grow Smart Garden 9 is yet another winning model from the Click and Grow start-up. Designed to provide your plants optimal light and heat, this hydroponic set-up makes growing your own vegetables, fruits, herbs and even some flowers, an effortless project that you can achieve all year round from the comfort of your home.
For the most part, the Click and Grow review found that the Smart Garden 9 makes a suitable choice for buyers who almost always include fresh herbs and produce with their everyday meals. With the Smart Garden 9, a wide array of fresh greens should never be far from reach.