The Click and Grow Smart Garden 3 is an intuitive indoor garden kit that promises to help you cultivate a broad selection of various herbs, vegetables, fruits, and plants. The effortless system works wonders to grow greens from plant pods, and all you really need to do is be there to watch Mother Nature work her wonders – right in the comfort of your kitchen.
With so many different kinds of countertop gardens from a multitude of different brands, it has become a bit of a challenge to find out which one is right for your home. So to help you make an informed choice on the right indoor garden kit for you, we're dishing out everything you need to know about the Click and Grow Smart Garden 3.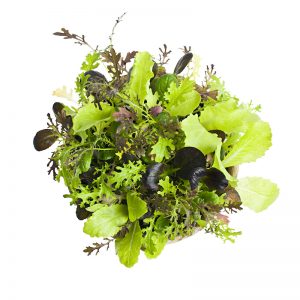 With a silhouette that's both sleek and contemporary, the Click and Grow Smart Garden 3 looks like it popped right out of a futuristic sci-fi film. The minimalist design boasts beautiful symmetry and clean, harmonious lines that take inspiration from modern Scandanavian style. And because it comes in three neutral colors, the Smart Garden 3 can easily blend in with your interior without disrupting your decor.
But while the aesthetics can definitely be a major selling point, the indoor garden's growing system is really where the magic happens. With three receptacles for plant pods, the kit lets you grow up to three different plants at a time. These pods come from the same brand and contain seeds from various types of herbs, vegetables, fruits and flowers.
And if you were worried that you might not be able to grow certain types of produce and plants, it helps to know that the company behind the product promises a replacement for any pods that don't germinate. That said, you can be confident that any plant will thrive in your care, no matter how much – or how little – gardening experience you have.
Providing up to 14 inches of vertical space when fitted with the light extension, the Click and Grow indoor garden kit can accommodate lots of different types of vegetation that are configured for upward growth. Three powerful LED lights hover directly above the plant pods and provide well dispersed and distributed warmth and light for each of the growing plants. Underneath, a hydroponics system uses nothing but water for clean and easy maintenance and use.
Definitely, the Click and Grow Smart Garden 3 is a fun and efficient way to grow a wide selection of edible plants. But as with any other indoor garden kit, it isn't without a few kinks here and there. The most noticeable drawback is the kit's water level indicator. As the floating piece of plastic lowers into its hole, you'll get an idea of how much water is left in your kit. To refill, you'll have to pour directly onto the float, with the water rushing downwards into the reservoir through the gaps around the edges.
Needless to say, this can take quite a lot of time and spills might be inevitable given the simplistic system. Another thing you'll notice is that plant pods are available in sets of three, with no option to mix up varieties. So if you were hoping to grow three different plants at a time, you'd have to purchase three sets of pods which isn't going to be cheap.
With no moving parts and internal pumps, the Click and Grow Smart Garden 3 is a simple yet modern take on the humble indoor garden kit, helping you grow anything from strawberries to basil with as little time and effort as possible.
Key features:
3 plant pod receptacles
3 cool white LED lights
Manual water level indicator
Adjustable light height
14 inch vertical clearance
Pros:
Large water capacity lasts for 2-3 weeks depending on the variety of plants growing and their present size
Intuitive water float tells you how much water is left inside the reservoir at a glance
Adjustable LED light height can bring the heat closer or further, depending on the needs of the specific plant you're growing
SmartSoil pre-seeded pods come with a guarantee and will be replaced by the manufacturer if they don't germinate
Effortless cultivation process – just pop in the pods, add some water, and watch them grow
Cons:
Water float makes refilling the tank tedious and potentially messy
Pods are only sold as three of the same in a set
Repurchasing pods can be costly down the line
The Verdict
Click and Grow's Smart Garden 3 can make a skilled garden expert out of any homebody. The intuitive system is simple, effortless, and not to mention stylish, bringing fresh produce into your home through its efficient growing system. And although pods might cost a pretty penny, the company offers a guarantee to protect your purchase. So with all of the odds working in your favor, you should feel confident that this humble indoor garden kit will help you achieve your green thumb goals.