The AeroGarden Bounty is known to be an intuitive countertop garden that is designed to help you grow beautiful, fresh, lush greens from the comfort of your kitchen. Perfect for health-conscious home cooks.  These indoor gardens make herbs and fresh produce readily available throughout the year.
The Bounty is one of the AeroGarden models that has been trusted by many for growing a fresh harvest.  The new 2019 Bounty boasts the brand's most robust, sleek design to date.  The newly upgraded and redesigned Bounty is packed with improvements and additional features, making this a must-have indoor garden system for a busy kitchen.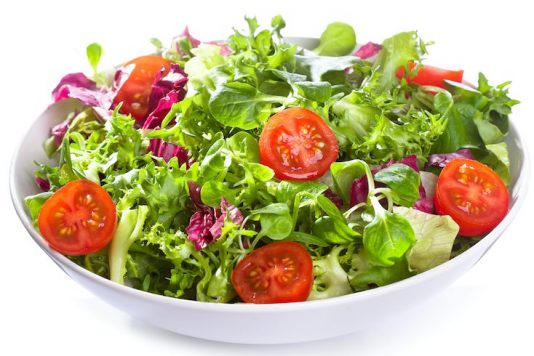 The AeroGarden Bounty is made from reinforced ABS plastic, designed to resist all sorts of moisture and heat damage. More than anything, the sleek, modern design looks like a sophisticated garden pot, and the Bounty's black colorway can blend in with most kitchen interiors.
As the middle of the range 'Bounty', this robust design holds up to 9 different plant pods. That means you can grow a wide variety of herbs and more all in one go.  A newly designed grow deck allows for more room between plants, provides a larger opening for adding water and has the option for a trellis attachment.  And to help maximize the growth, the design can extend its light height to up to 24 inches.  The grow lights on this model are also dimmable at the touch of a button (to 30%), providing more ambient lighting when needed.
What really sets the AeroGarden Bounty apart from other models in the same price range is its highly sophisticated control panel with Wi-Fi and Alexa compatability.  The status of the garden can be monitored remotely and lights dimmed when needed from Alexa or your device.  The addition of a vacation mode setting enables the plants to grow at a slower rate whilst you're away on holidays.
Developed for much more than just water and plant food prompts, the Bounty's full colour, touch screen control panel provides a wealth of tips and planting guides to get you growing, healthy, high-yielding plants all-year round.  This countertop garden gives you an education whilst producing a harvest.
The all-new Bounty boasts the largest water reservoir of all AeroGarden models so there is less refilling for your plants as they grow.  Because it does have the capacity to grow up to 9 plants at a time, full size plants may still require more regular watering.
As you might expect, size might be one of the drawbacks of this generous indoor garden. Taking up significant countertop space, the AeroGarden Bounty might be a tight squeeze if you don't have too much room to spare in your kitchen.
Being one of the largest AeroGarden models this does have a higher price tag, however if you are a regular user of fresh herbs and salad greens, the savings over time will add up.  For those who travel regularly, instead of wasting fresh produce, plants can be kept alive in vacation mode to ensure you only use what you need, when you need it.
Robust, and generous in capacity, the AeroGarden Bounty makes it easy to grow plants to their full size, producing a maximum harvest. Fitted with an intuitive, Wi-Fi enabled control panel, this smart design gives you the flexibility to monitor your garden's status or dim lights from anywhere in the home.
Key features:
Height adjustable LED lights up to 24 inches from plant bed
9 plant pod capacity
High-resolution, touch screen control panel with water and food prompts
Built-in tips and gardening info for trouble shooting
Professional plant growing 40W LED lights
Vacation mode feature
Wi-Fi enabled and Alexa compatible
Includes 9 plant pods and liquid plant food
Pros:
Large 9 plant pod capacity lets you grow all sorts of produce and herbs all at the same time
Adjustable lamp height reaches up to 24 inches from the plant cradle to accommodate upward growth
Intuitive control panel shows you all the present information on your garden project including water and food needs
Tips and gardening information are accessible through the control panel touchscreen to help enrich your gardening knowledge
Energy efficient 40 watt, dimmable LED lighting system (to 30%) boasts professional gardening performance to match your plants' needs
Vacation mode reduces the light provided so plants stay alive but grow at a slower rate while you are away
Wi-Fi capability allows you to monitor and control your garden from the AeroGarden app or Alexa
Cons:
Large indoor gardening kit takes up substantial vertical height and countertop space
Water reservoir may need regular refilling if all 9 plants are completely grown
Initial investment is quite large
The Verdict
The generous capacity and ease of use of the AeroGarden Bounty makes it the ideal choice for those who use fresh herbs and produce regularly. The modern, smart device can deliver a substantial harvest compared to its peers, making it the perfect pick for households that prepare lots of meals for lots of people.
But despite its sizeable build and abundant yield, this AeroGarden countertop garden still manages to take on the brunt of the gardening gig, letting you sit back and watch nature take its course.  The excitement of watching your plants thrive in the AeroGarden Bounty and the provision of fresh, flavourful produce will be with you all year round.